Post by Patrick Huber, Missouri University of Science and Technology
Despite our admonition on this blog to "beware of firsts," I couldn't help myself.
For those skeptics who doubt that country music began with the 1927 Bristol Sessions, Eck Robertson and Henry Gilliland are usually, hands down, their favored candidates for the artists who made the first commercial recordings of the genre. In June 1922, the duo turned up, unexpectedly, as the story goes, at the Victor Talking Machine Company's studios in New York City, and, over the course of two days, recorded, either together or solo, a total of ten fiddle tunes. Nine months later, in April 1923, Victor released one of the pair's fiddle duets, "Arkansas Traveler," coupled with Robertson's solo version of "Sallie Gooden," on Victor 18956, classified in its "Vocal and Instrumental Records" category. Many, if not most, country music scholars hail it as the first country music record.[1] That historic designation, as folklorist Simon J. Bronner notes, rests solely on scholars' subjective assessment that these selections represent "the first combination of Southern folk music performed by true practitioners of the tradition on commercial recordings catering to a general market."[2]
Now, though, a new candidate for the first country music record has emerged, as performed by Don Richardson, a violinist, conductor, composer, orchestra leader, and music instructor. Born in Clinton, North Carolina, Donald Amos Richardson (1878–1953) attended the University of North Carolina and studied violin in New York City under two distinguished European instructors, Jean Henri Appy of the Netherlands and Ovide Musin of Belgium, before settling in Charlotte in 1900. There, Richardson led a succession of orchestras and taught violin lessons.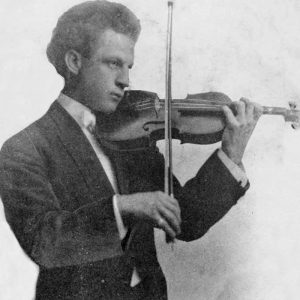 While living in Charlotte, "Professor D. Amati Richardson," as he had taken to calling himself, embarked on another musical venture, one that harked back to his childhood and earliest years of musical development.[3] In 1908, a press release in the Gaffney (S.C.) Ledger announced that Richardson had organized an unusual program titled "Ye Olde Tyme Fiddlers" and was "undertaking a short tour of the south, in order to give the people of the Southern States an opportunity of hearing the tunes their forefathers played in the long ago."[4] Richardson's stage show consisted of a combination fiddlers' convention and violin recital, and in Gaffney and the other cities where his program played, he invited local fiddlers to compete for cash prizes in an old-time fiddling contest. Interspersed throughout the event was a musical appreciation concert designed to edify audiences by presenting "the two classes of violin playing," the art of the old-time fiddler, as demonstrated by the contestants' performances of folk tunes in "the old method of playing," and the art of the trained violinist, as exhibited in Richardson's rendering of classical works in "the modern style."[5]
Despite his formal training, Richardson harbored a deep appreciation and respect for old-time fiddling. "The boyhood days I spent in North Carolina are as good memories to me because of the old fiddlers with all their musical snatches and melodies," Richardson told a local newspaper when his program played in Newton, North Carolina. "The man and woman who can produce music from a fiddle—and such music it is too!—whose heart enters into the work and who is unhampered by the dictates of advanced musical training and technique care has always played into the hearts as well as the ears of all listeners."[6]
In 1911, in an effort to break into a larger musical market, Richardson left Charlotte and relocated to New York City, where he organized Don Richardson's Society Orchestra, composed a series of then-popular ragtime and polka one-steps, and launched a recording career with the Columbia Graphophone Company.[7] He made his recording debut on January 8, 1915, when he and his eponymous orchestra gathered around acoustic horns at the company's Manhattan studios to produce a lone issued side, the old standard "A Perfect Day," played in waltz time. It was released on one side of a Columbia twelve-inch disc that April. Three other dance selections, waxed at this or at subsequent ca. 1915 sessions, went unissued.[8]
The following year, the versatile Richardson struck out in a new musical direction, producing a series of violin solos for Columbia, with the German-born pianist Samuel Jospe backing him. Richardson waxed the first of these, "Mississippi Sawyer," on May 5, 1916, and, over the next three days, cut five more traditional Irish and American fiddle tunes: "Mrs. McLeod's Reel," "The Devil's Dream," and "Old Zip Coon" on May 6, and "Arkansas Traveler" and "Durang's Hornpipe" on May 8, all with Jospe's accompaniment. All were successfully executed in one or two takes, except for "Mrs. McLeod's Reel." Richardson and Jospe had to return to the studios November 3, 1916 to achieve an acceptable version of that number for release.
In mid-June 1918, fronting the Don Richardson Trio, Richardson recorded six medleys featuring the same or similar material, though with added dance calls, for rival Victor. Among the featured titles of these medleys were "Mississippi Sawyer," "Arkansas Traveller," and "Irish Washer-Women [sic]." Unfortunately, all went unissued. What did we miss out on here? Apparently, a great deal. On these sides, Richardson was joined by banjoist William Farmer and, at the very beginning of his long radio, recording, and composing career, pianist Milton Rettenberg. According to Victor ledgers, fifty-four-year-old Arthur Collins, the onetime famed "coon song" specialist whose prolific recording career stretched all the way back to 1898, supplied the calls. Wouldn't those sides have been worth a listen?
In 1918–1919, still freelancing, Richardson covered much of the same repertoire for OKeh, as either a soloist or the leader of the Don Richardson's Orchestra, and, according to Ross Laird's Brunswick discography, also waxed a single medley for that label in 1919. In mid-May 1921, in what were his final sessions, Richardson, accompanied by pianist Philip Hauser, contributed eight "Medleys of Jigs and Reels" to Columbia's catalog, before retiring from recording work and returning to Charlotte. Altogether, his recorded output of fiddle tunes and medleys totaled 21  issued sides. In language that anticipated industry descriptions of early country music records, Columbia touted Richardson as a "'master fiddler'" and stressed that the "good old-fashioned fiddling virtuosity" heard on his records "will turn backward the pages of time in [their] flight with memories of the happy-go-lucky days of youth."[9] (In future blog posts, we will have much more to say about how Columbia and other companies promoted folk music as part of their educational mission.)
Since at least the 1960s, scholars and researchers have been aware of Richardson's assortment of early fiddle tune records, and scattered references to him on the Internet, including on Wikipedia.com, claim he made or may have made the first country music record. But authenticity-minded folklorists and historians within country music studies discount Richardson's recorded work, arguing that his status as a professional, trained violinist disqualifies him from being considered a genuine "folk artist." New evidence has recently surfaced, however, that Richardson learned some, if not all, of the fiddle tunes he recorded not from his musical studies or from published tune books, but rather from oral tradition, in the manner of "folk musicians." In a 1943 Charlotte Observer profile, Richardson claimed to have begun playing in his childhood on a homemade "fiddle" he had fashioned out of a discarded cigar box.[10] More telling, though, is a 1922 Charlotte News article titled "Asks Richardson for Ancient Music." It related how an Idaho musician, having heard several of Richardson's Columbia records, wrote to the violinist asking where he could obtain the sheet music for "Mississippi Sawyer" and two other fiddle tunes. Richardson, the article noted, responded that these and "other famous old violin numbers cannot be found and that the only way to obtain them is to have some old-time fiddler play them to a phonograph." Significantly, the newspaperman added, "Mr. Richardson himself learned them when he was a barefoot boy in Sampson county . . . and never dreamed they would be worth money to him some day when he should be asked by a phonograph company to play them for a permanent record."[11]
Determining the first commercial recording of any musical genre is, admittedly, a tricky business. But add to that the arbitrary criteria of folk status, traditionality, and authenticity that scholars have conventionally applied to country music, and such an endeavor becomes perilous. Still, given what we now know about Richardson's regional heritage and early informal musical education, it appears that he satisfies most—if not all—of scholars' evaluative standards to be designated a southern "folk artist." Richardson apparently derived his repertoire of fiddle tunes from tradition, but his recorded performances of them reflect the stylings of a classically trained violinist. According to scholars' criteria, does Richardson qualify as a "folk artist"? If one wished, a strong case could be made for him being the first "traditional" southern musician to make commercial recordings—a full six years before Robertson and Gilliland did so. If true, Richardson's coupling of "Durang's Hornpipe" / "Mississippi Sawyer" (Columbia A2018), released in August 1916, would represent the first country music record.
Attempting to identify the first such record using highly subjective criteria, as previous historians and folklorists have done, is a fool's errand, though, and on the forthcoming Before the Big Bang anthology, we have no intention of becoming embroiled in what is basically a meaningless exercise. Where does it end, after all? As soon as one researcher discovers an earlier, purported example of recorded country music, another researcher counters with an even older one. Is one of Len Spencer's various 1901–1908 "rube" renditions of "Arkansaw Traveler" the earliest recording of country music? Then again, perhaps it's studio violinist Charles D'Almaine's 1905 disc of "Medley of Old Time Reels." Or maybe it's the 1895 cylinder version of "I'se Gwine Back to Dixie," by the Unique Quartette, an African American vocal group. Or any number of "negro delineator" Billy Golden's cylinder recordings of "Turkey in the Straw," the earliest of which dates back to at least 1892. The quest is about as useless as the list of possible candidates is endless. All of this is to say that Don Richardson and the other artists of the 1890–1920 era featured on Before the Big Bang played a significant, though largely underappreciated, role in influencing the content and scope of the emerging genre of old-time music. But the impulse within country music studies to identify a single event, or artist, or recording, as a definitive "first" has obscured those influences. After a century or more, it's time for these artists and their contributions finally to be recognized.
Endnotes
[1] Interestingly, Bill C. Malone, the dean of country music scholars, has always been reluctant to credit his fellow Texan Robertson, and Robertson's partner, Gilliland of Oklahoma, with that historic achievement. In the first edition of Country Music, U.S.A., Malone identified the duo as being "among the very first individuals to make disc recordings" of commercial country music. Malone worded his pronouncement so carefully, because, in 1968, that coveted title was still very much up for grabs. "Discographical researchers," he noted, "are constantly disclosing the existence of early fiddle recordings, even on cylinders which have not as yet been thoroughly investigated and documented." In the end, he concluded, the name of "country music's 'earliest' recording performer may never be known." At the time, Robertson and Gilliland were the most likely candidates.
To his credit, Malone remains just as cautious in his assignment of credit today as he was in 1968. "The identity of country music's 'earliest' recording performer is still being debated," remarked Malone and his co-author, Tracey E. Laird, in the 50th-anniversary edition of the book, before adding that no artists have "a stronger claim" than Robertson and Gilliland. But if Malone has resisted crediting the duo unqualifiedly, other scholars and writers have not. In 1970, just two years after the initial publication of Malone's Country Music, U.S.A., one writer pronounced Robertson "the first country musician to appear on commercial phonograph discs." And by 1991, when Country Records' album Eck Robertson: Famous Cowboy Fiddler appeared, this was apparently considered a well-established historical fact. "Eck Robertson," the author of its booklet's biographical sketch declared, "is famous as the first person to record a commercial country music record." (Gilliland, the Robin to Robertson's Batman, almost invariably gets short shrift when the accolades are being handed out.) See Bill C. Malone, Country Music, U.S.A.: A Fifty-Year History (Austin: University of Texas Press, 1968), 39; Bill C. Malone and Tracey E. Laird, Country Music, U.S.A., 50th-anniversary ed. (Austin: University of Texas Press, 2018 [1968]), p. 42 (this same statement appears in the book's 1985 and 2010 revisions); Michael L. Bass, "Eck Robertson: Traditional Texas Fiddler," in Pictorial History of Country Music, Vol. 3, ed. Thurston Moore (Denver: Heather Enterprises, Inc., 1970), p. 8; Blanton Owen, biographical essay in booklet to Eck Robertson: Famous Cowboy Fiddler (County Records, County 202), p. 1.
[2] Simon J. Bronner, "Old-Time Tunes on Edison Records, 1899–1923," Journal of Country Music 8 (May 1979): p. 95.
[3] "He Is in Charlotte Now," Lumberton (N.C.) Argus, as quoted in Charlotte News 9 Mar. 1906, p. 2.
[4] "Ye Olde Tyme Fiddlers," Gaffney (S.C.) Ledger 24 Jan. 1908, p. 8.
[5] Ibid.
[6] "Coming! Coming! Ye Olde Tyme 'Fiddlers,'" Newton (N.C.) Enterprise 23 Jan. 1908, p. 3.
[7] Among Richardson's compositions from this phase of his career are "Zum!" (Joseph W. Stern & Co., 1915), "Hezekiah" (G. Schirmer, Inc., 1915), "Nik-O-De-Mus" (Waterson, Berlin & Snyder Co., 1916), "Aunt Patsy" (G. Schirmer, Inc., 1917), and "New Orleans Jazz (My Dixieland)" (Leo Feist, Inc., 1917).
[8] My discussion of Richardson's recordings here and in the next three paragraphs relies upon the University of California, Santa Barbara, Library, Discography of American Historical Recordings, https://adp.library.ucsb.edu/index.php, s.v. "Don Richardson."
[9] Columbia Records supplements, Mar. 1917, p. 16, and June 1922, p. 5.
[10] "City's Music Master Retires His Fiddle," Charlotte Observer 25 Aug. 1943, sec. 2, p. 5.
[11] "Asks Richardson for Ancient Music," Charlotte News 2 July 1922, p. 3.